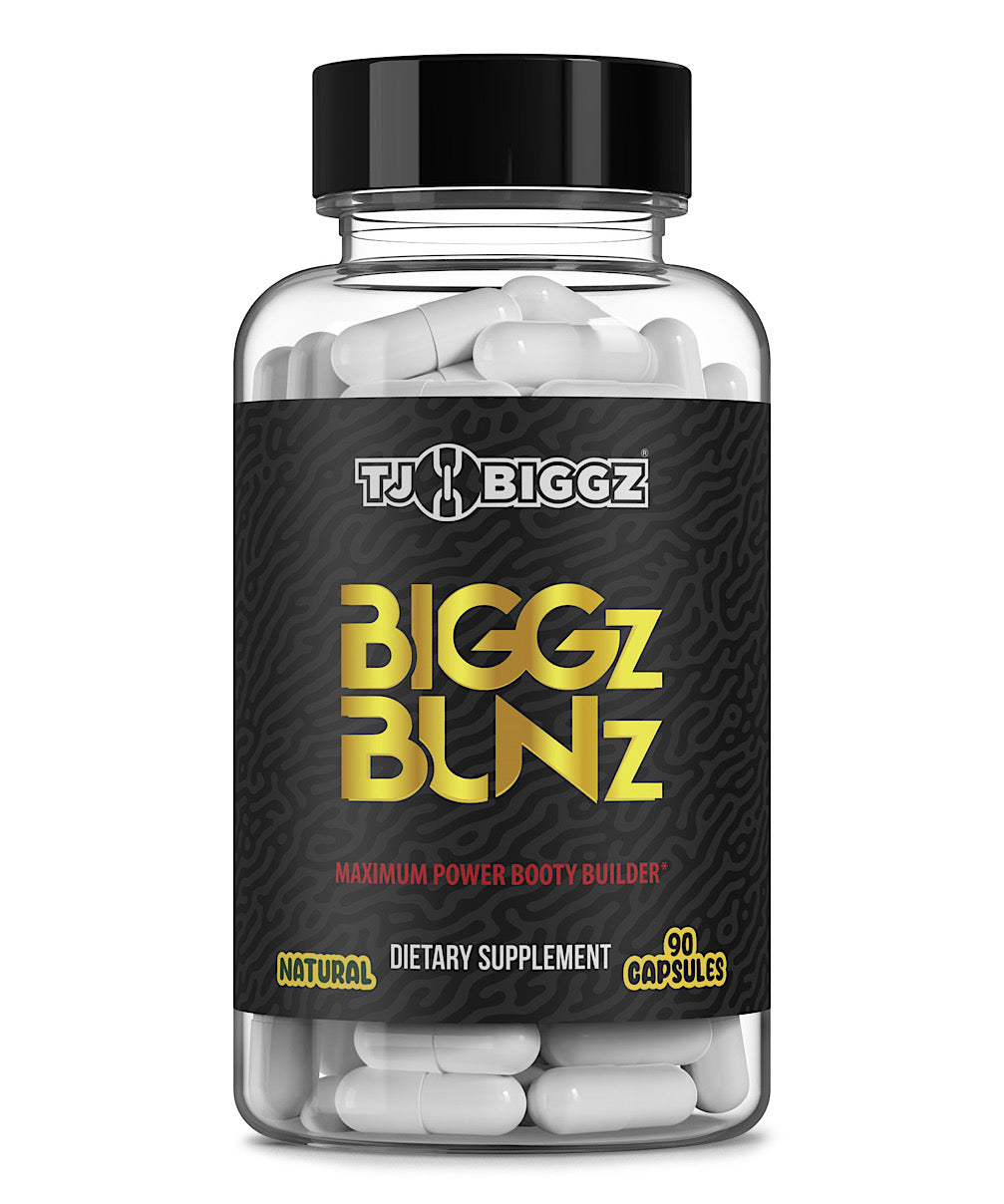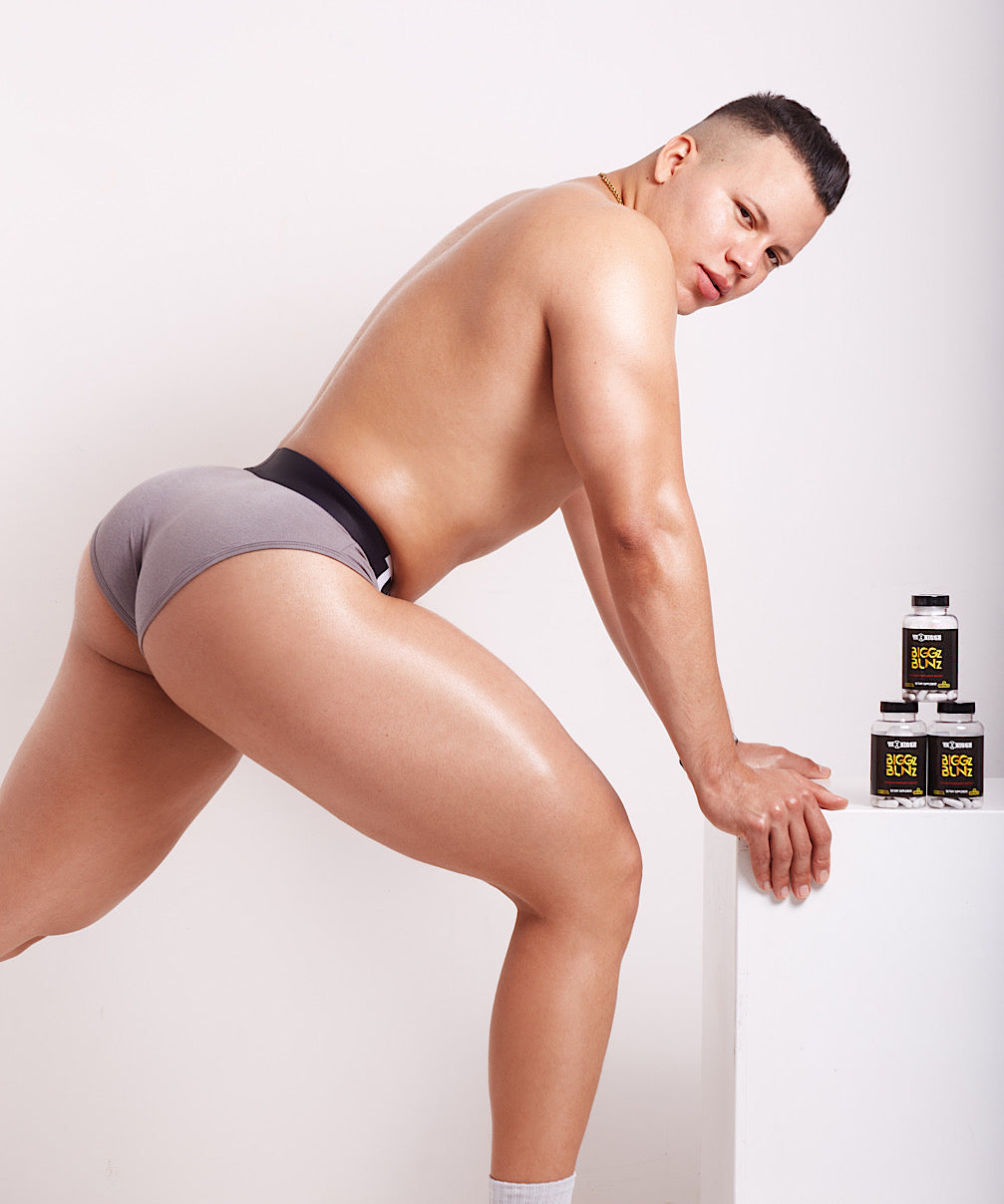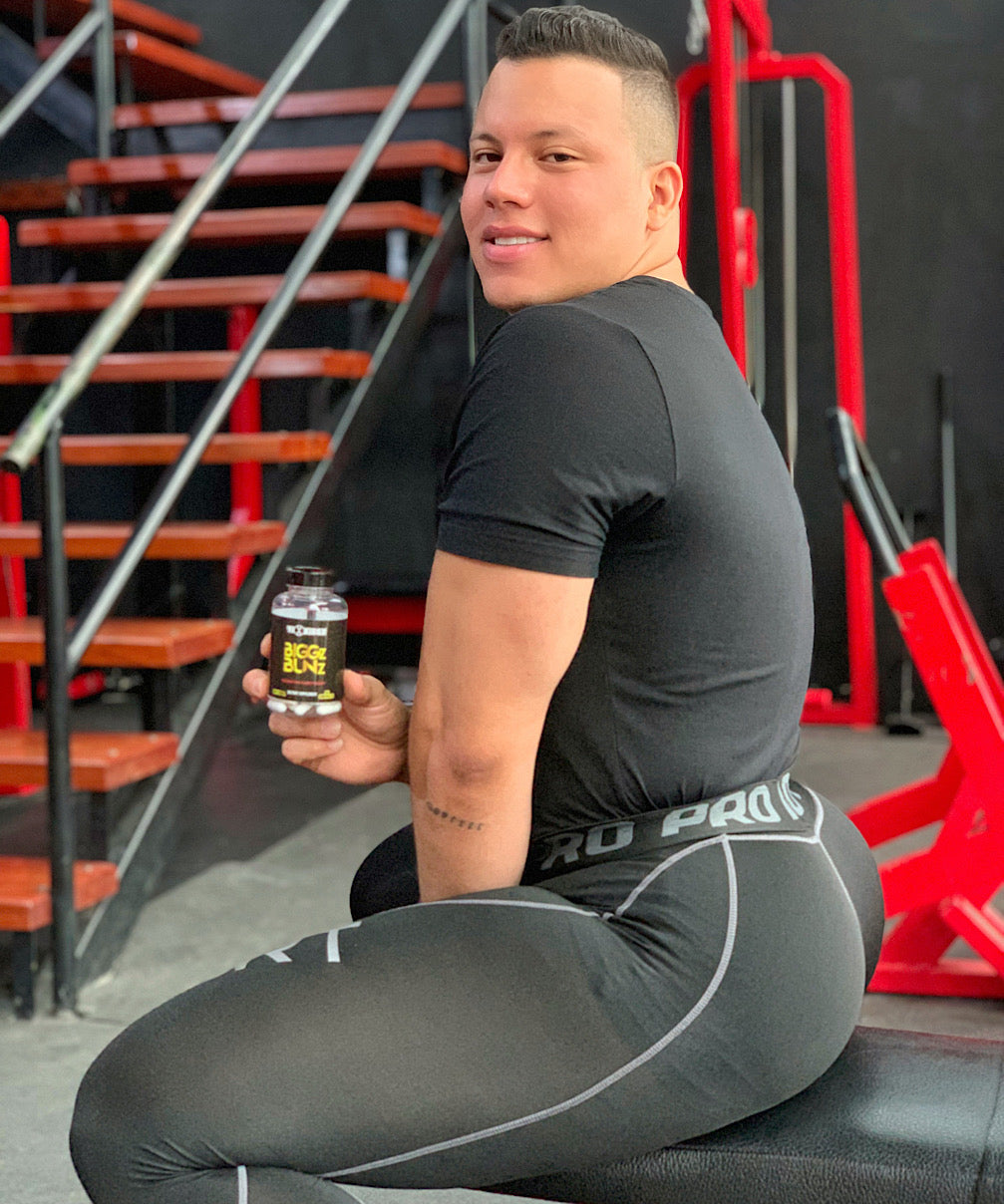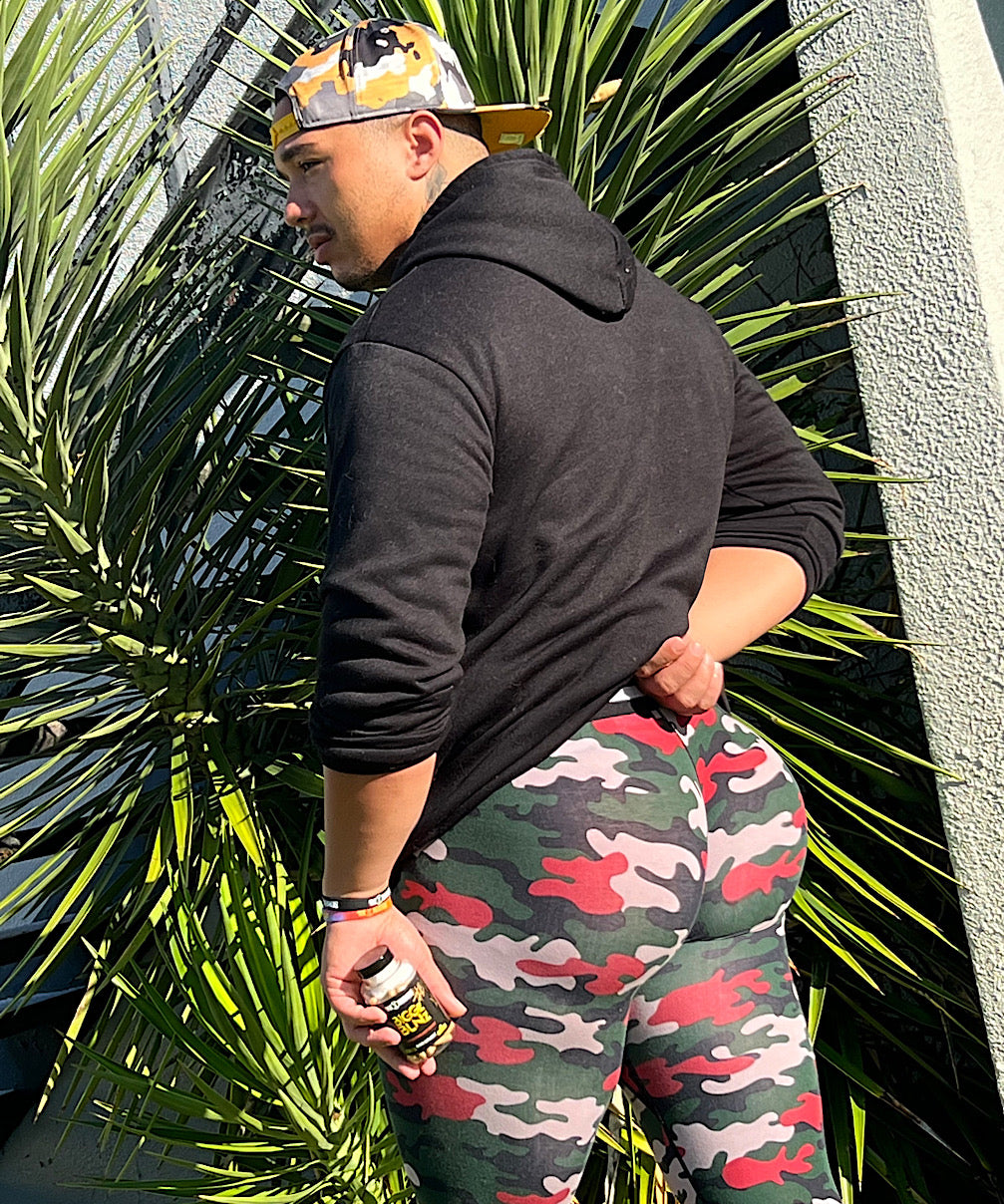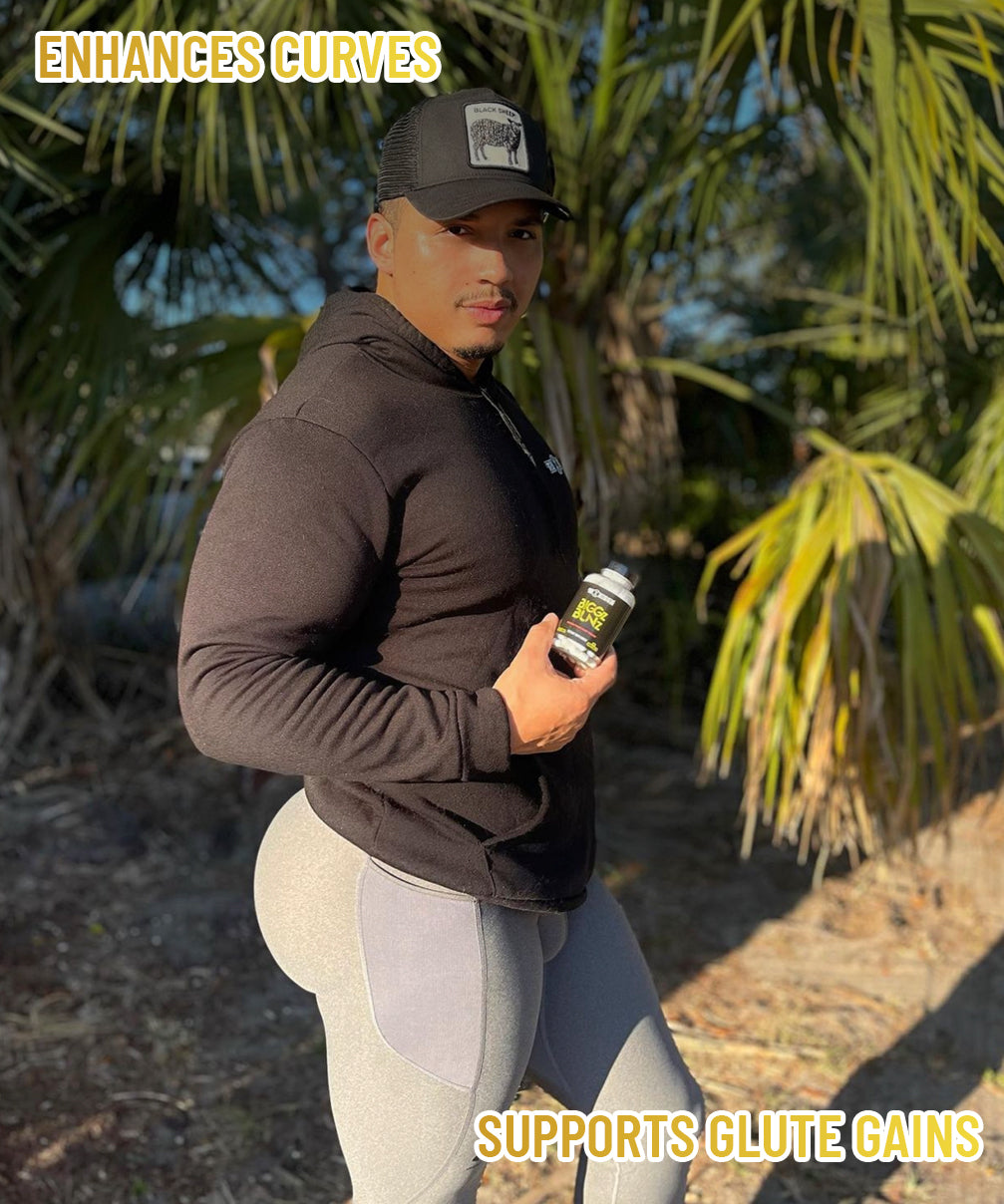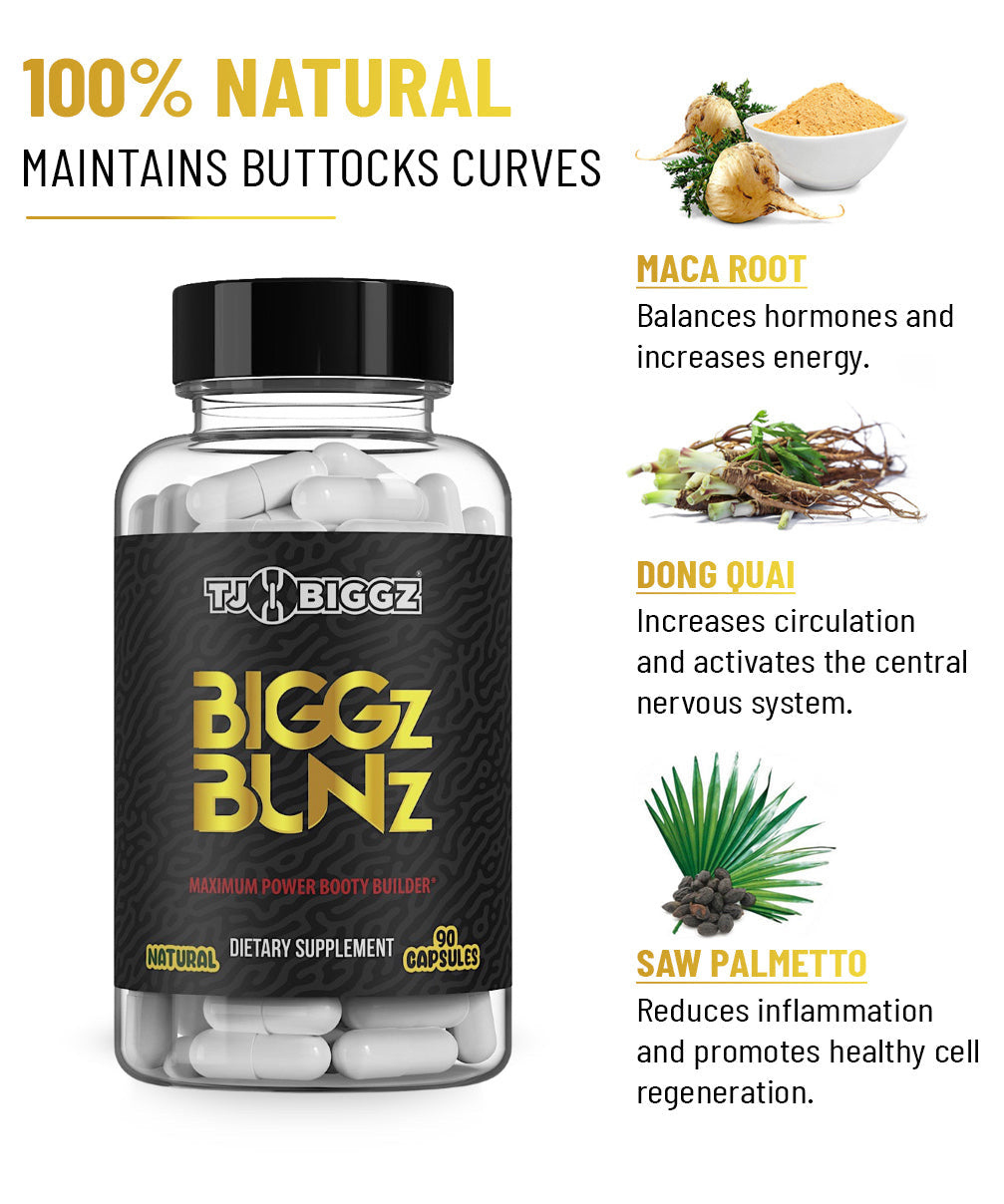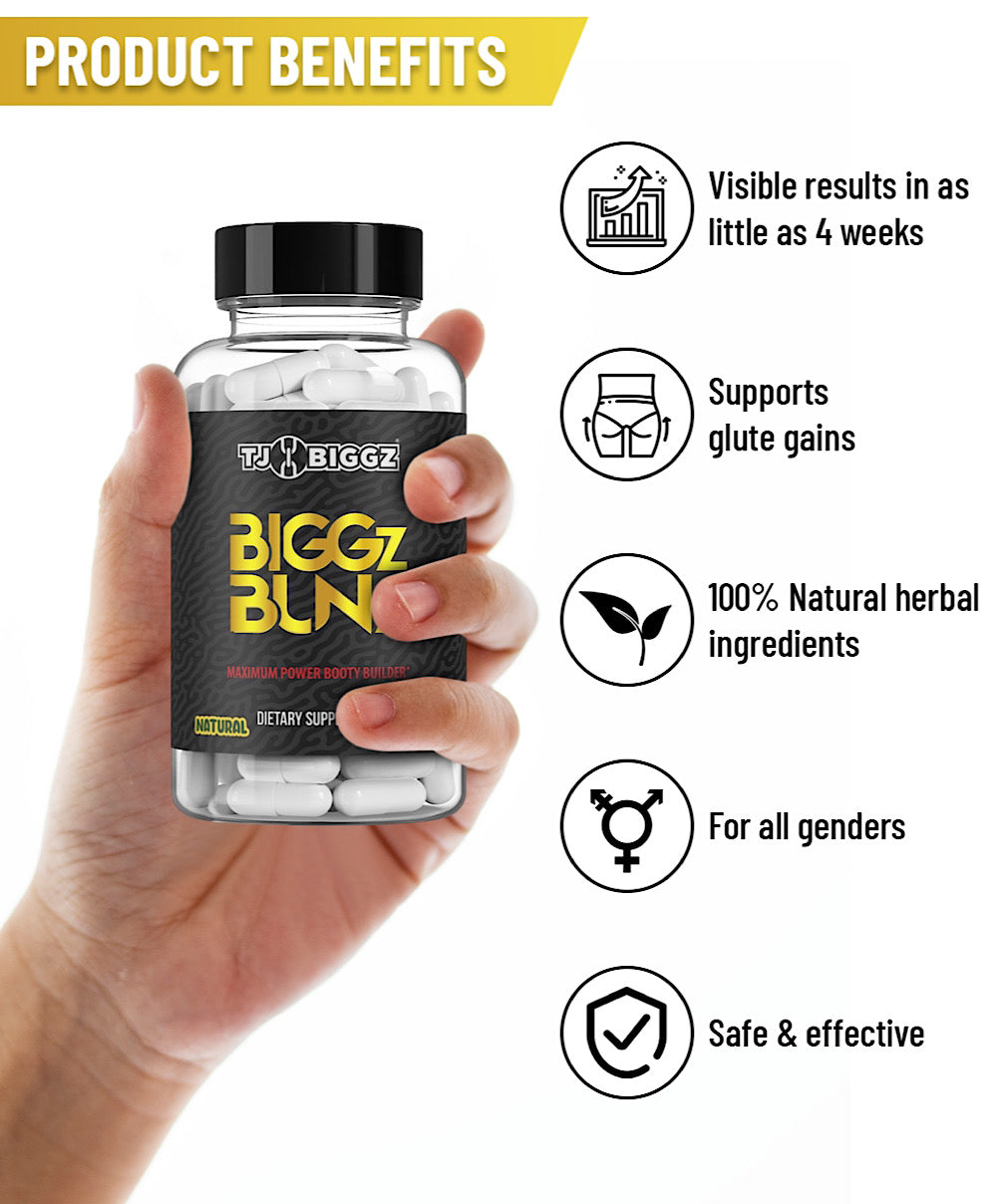 Biggz Bunz™ (Extreme Glute Builder)
Regular price
$ 60.00
Sale price
$ 40.00
Save

$ 20.00
/
In stock, ready to ship

Inventory on the way
Biggz Bunz is the #1 selling glute supplement in the world. Here at Tj Biggz we are proud to have the only gay & minority owned glute building supplement on the market. Thousands of happy customers around the world (All Genders) gain a larger and rounder buttocks much faster than expected. Our proprietary custom formula is made with Premium Maca root. 100% natural plant based ingredients, Proudly made here in the USA.

Combine with our Biggz Bunz Resistance Bands take your results to the next level!
Building Booties Since 2017
1 Bottle "Getting Started"
2 Bottles "I See You Looking"
3 Bottles "They Want To Know My Secret"
6 Bottles "Big Ol' Juicy Booty"
Features and Details
Visible results in as little as 4 weeks 
Promotes a rounder, larger & fuller buttocks. 
100% Natural herbal ingredients
For ALL genders 
Safe & effective
Exercise not required
Results That Stick
Tj Biggz took the world by storm in 2017 and for nearly a decade has changed everyone lives for the better. Growing a round shapely buttocks can be difficult for some but we have made it easy with our Biggz Bunz formula. The active ingredients in Biggz Bunz are proprietary tested in tried true. With over 1 million capsules sold and thousands of happy customers across the globe with phenomenal results by using Biggz Bunz as part of their daily routine. Staying consistent is key when you want the full benefits of your results with Biggz Bunz and that includes incorporating a workout regimen, staying hydrated, eating a well balanced diet and living a healthy lifestyle.
Premium Maca Root along with Dong Quai, Fenugreek & other ingredients in Biggz Bunz help with booty growth.

The dosage in Biggz Bunz by far the strongest & most potent than any other copycat brand.
Biggz Bunz Blend targets the glutes to produce a larger & rounder booty 
Helps sculpt and store fat in the booty 
Organic superfood ingredients made to be effective
Ingredients:
Full Ingredients List:
Maca Root Extract (Lepidium Meyenii), Dong Quai Extract, (std. to 1% Ligustilide)(Angelica Sinensis)(root), Fenugreek Seeds (Trigonella Foenum-graecum), Saw Palmetto Fruit (Serenoa Repens), Wild Yam Extract (Dioscorea Oppositifolia (Root)
Suggested Use:
Grab your Biggz Bunz Supplements and a tall glass of water. Take 3 capsules per day, preferably before working out, to grow and maintain a beautiful booty! For optimal results take 3 capsules per day with a well balanced diet and workout plan.
*Individual results may vary.
*These statements have not been evaluated by the Food & Drug Administration (FDA). These products are not intended to diagnose, treat, cure, or prevent disease.
SATISFACTION GUARANTEED!
Here at Tj Biggz we strongly believe in our products and want you to be fully satisfied. The return policy below is for all supplements and items purchased directly through our website (www.tjbiggz.com)
14-day return on regular price unwashed items free from stains/hair. Personal items such as underwear, swimwear, socks, bodysuits, and adult toys are FINAL SALE for hygienic reasons.
For supplements & cosmetics a return will only be accepted if the product came defective, this does not apply to pre-orders or digital items. Pre orders and Digital items are non refundable, no exceptions. To start the return process simply ship the unused or defected item back to us using the lowest USPS shipping rate. Once the item is returned to us and delivered, we will send you the same item at no extra shipping cost, this store does not return money.
If any bottle of supplements or cosmetics that you receive are damaged or arrive after its expiration date, we will promptly send a replacement. If you want a replacement for more than one bottle, you must return all of the bottles that you want to replace. For international customers, once the package is shipped and arrived in the customers country successfully, it is then the customers responsibility to retrieve the package. Also, if a package is lost while in transit or held by international customs it is no longer our responsibility and the customer would need to file a claim with the mail carrier that was used to ship the package. Please note, we are not responsible for mail carrier delays and shipping fees will NOT be refunded under any circumstances. 
Please email us at support@TjBiggzShop.com to start the return process
Please note that if you purchased any of our products from Amazon or somewhere else and are not satisfied for any reason, you MUST return the product in accordance with their return policies.The original shipping charges, including customs and taxes, will not be refunded. We reserve the right to reject any replacement request if we honestly believe that it may be fraudulent in nature.
Return Instructions
Please send your eligible return items to the name and address below. You are solely responsible for the cost of the return shipment, including customs and taxes.
Tj Biggz
831 Lowell Blvd Unit C24
Orlando, FL 32803
  You are strongly encouraged to use a shipping service with tracking capabilities. We apologize, but we are not responsible for the amount of time it takes for an item to be returned to our facility, or if the item is lost or damaged during the return process.
If you have any questions regarding our Shipping & Return policy, please contact us at support@tjbiggzshop.com
 Also, if the customer claims to not have received their order after it was confirmed for delivery by the mail carrier that was used, they're ineligible for a return and will need to contact their local post office or mail carrier that was used to ship the order. This also applies to packages with an incomplete shipping address provided by customer, NO EXCEPTIONS.
Official Tj Biggz Packaging
Since biodegradable packaging materials are made from recycled materials instead of chemicals and plastics, they are better for the environment and our planet.
Benefits
No Harmful Plastics.
Convenient Disposal.
Versatility.
Sustainability.
Saves the sea turtles
For customer support please email: