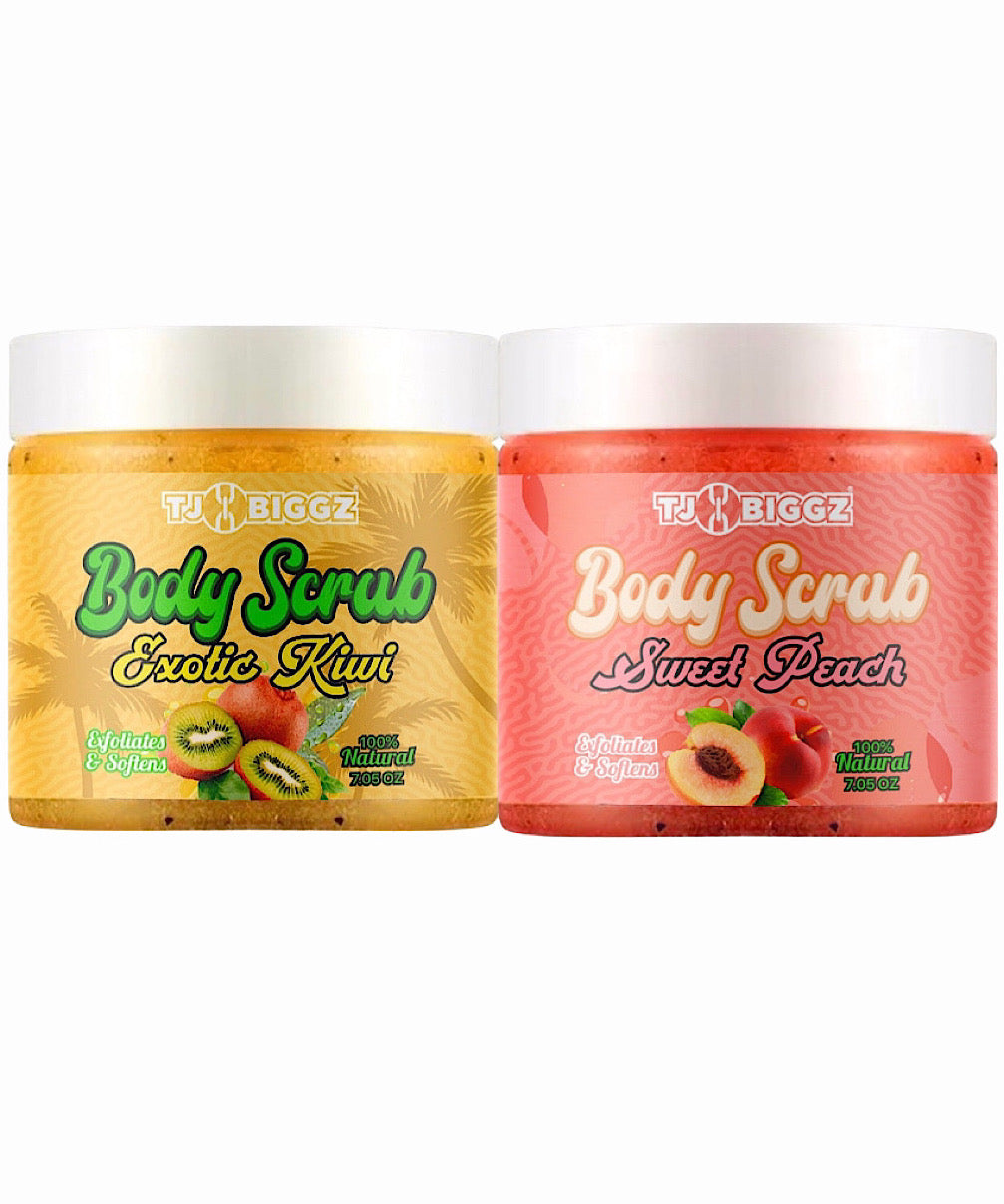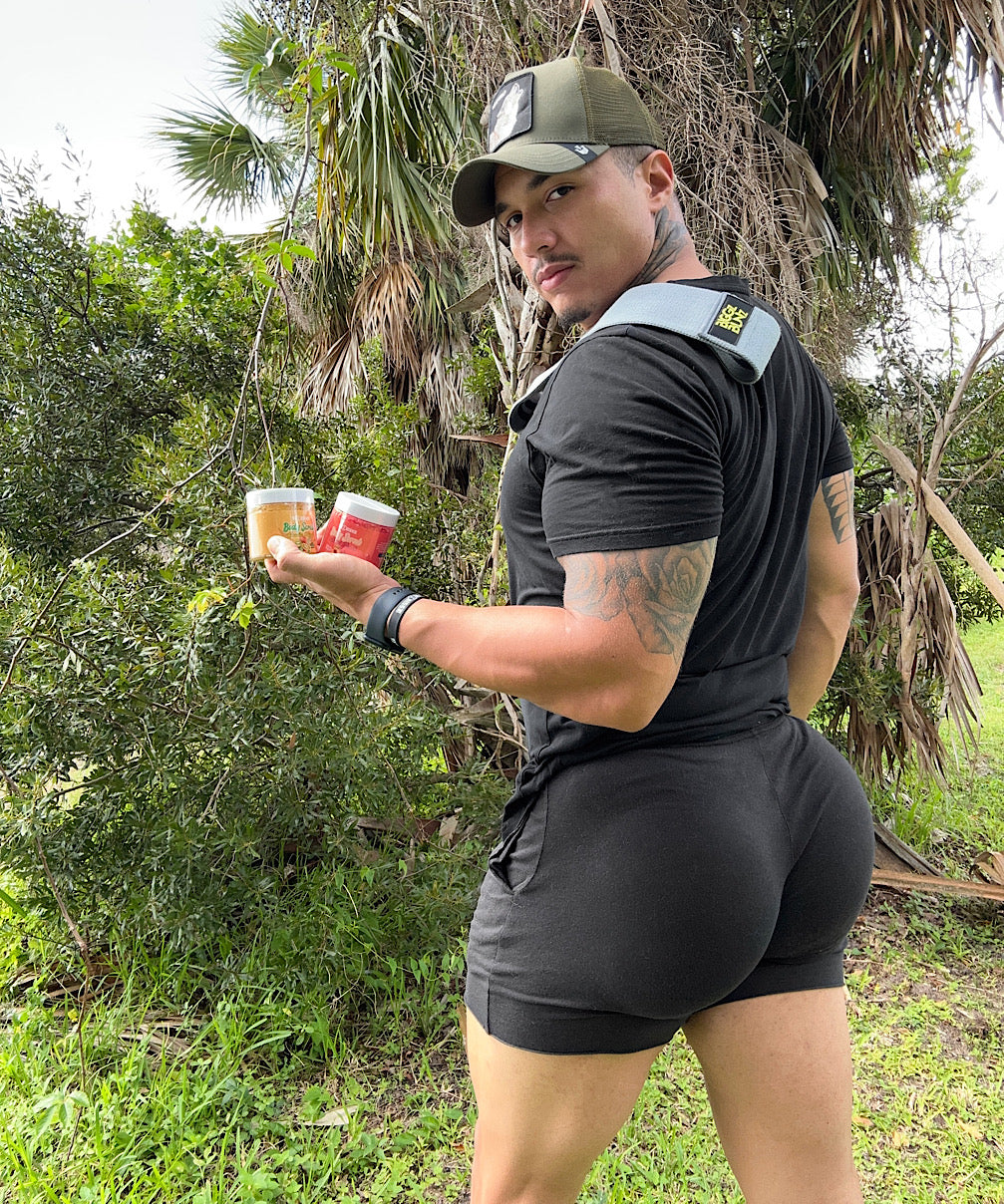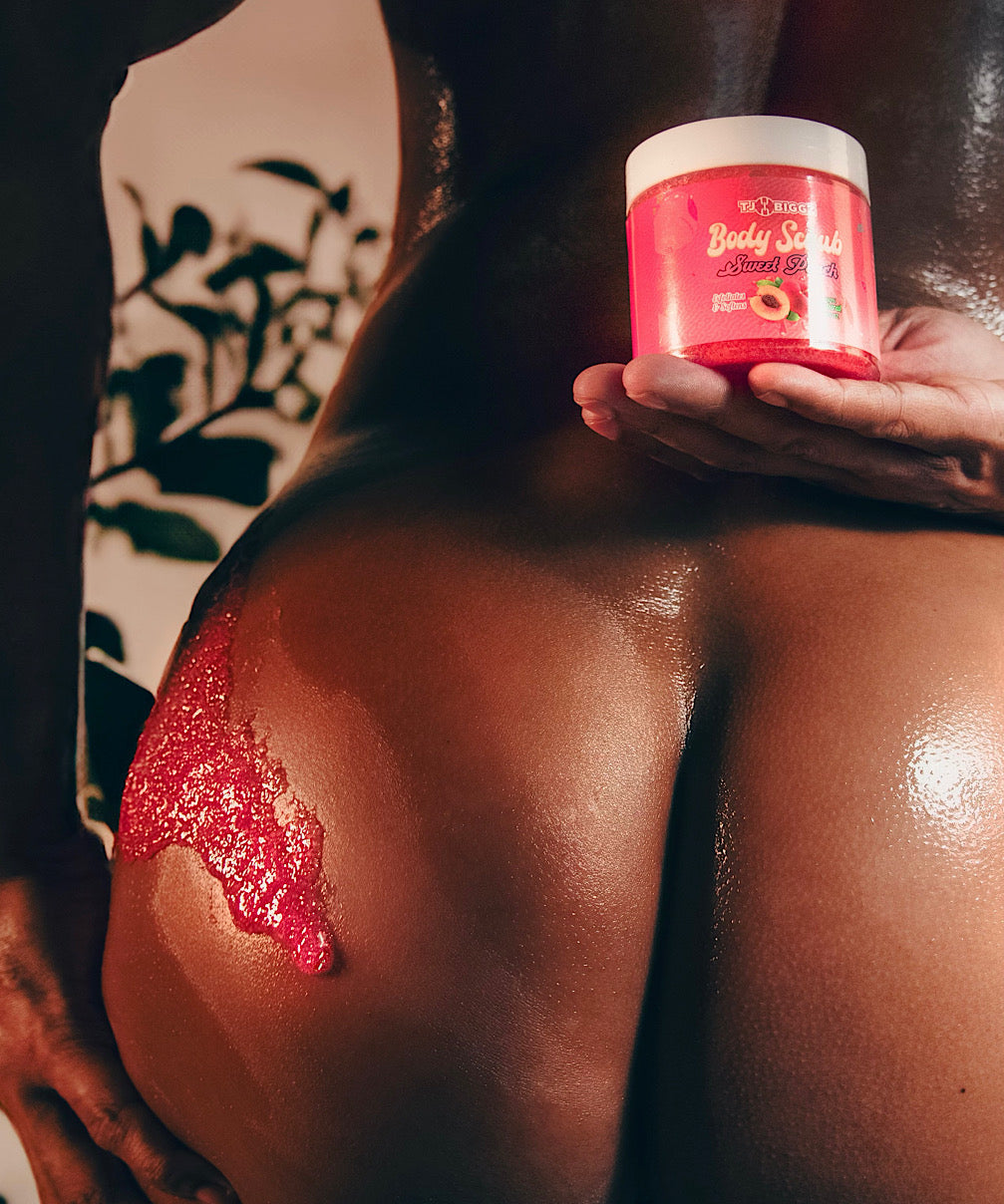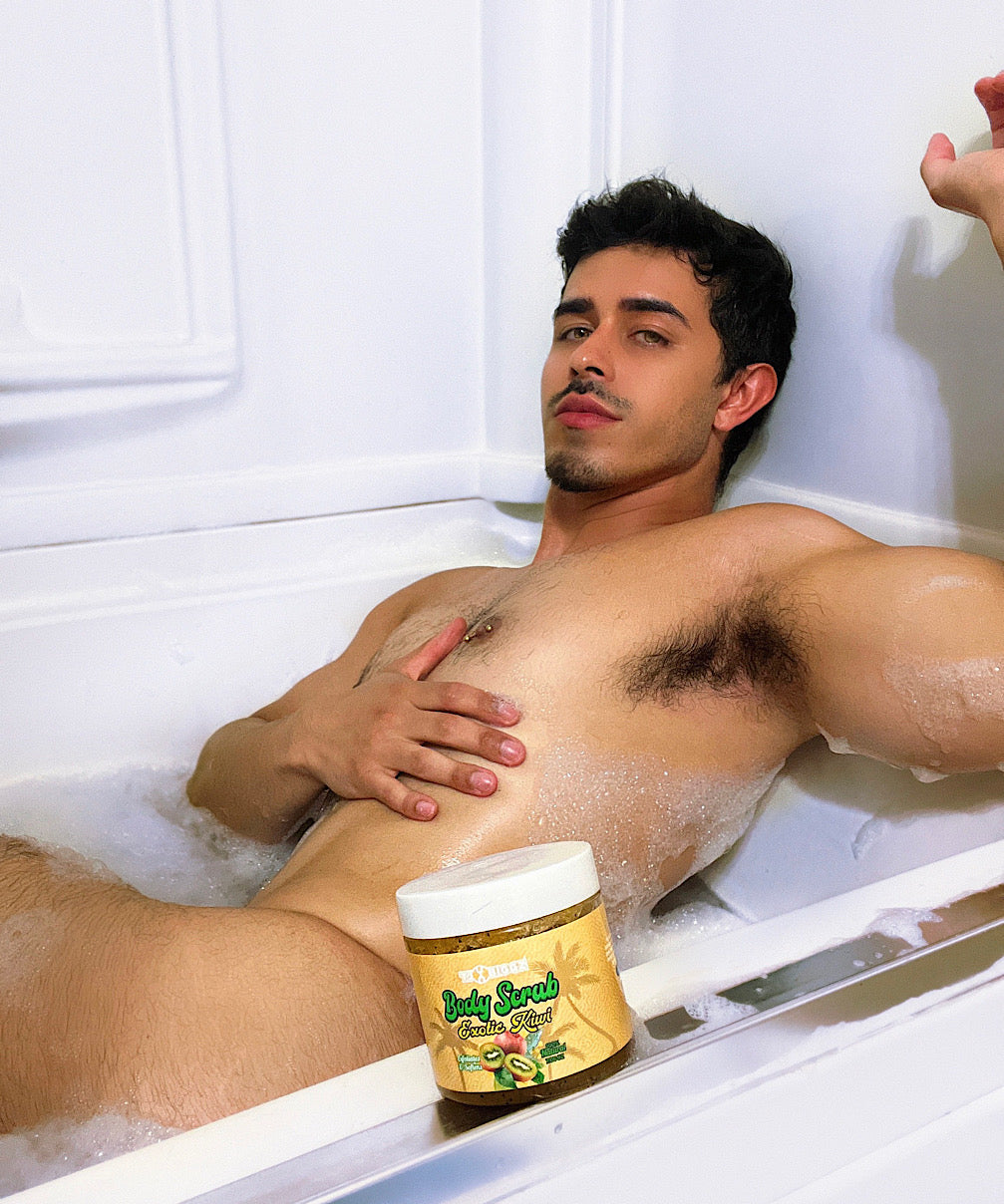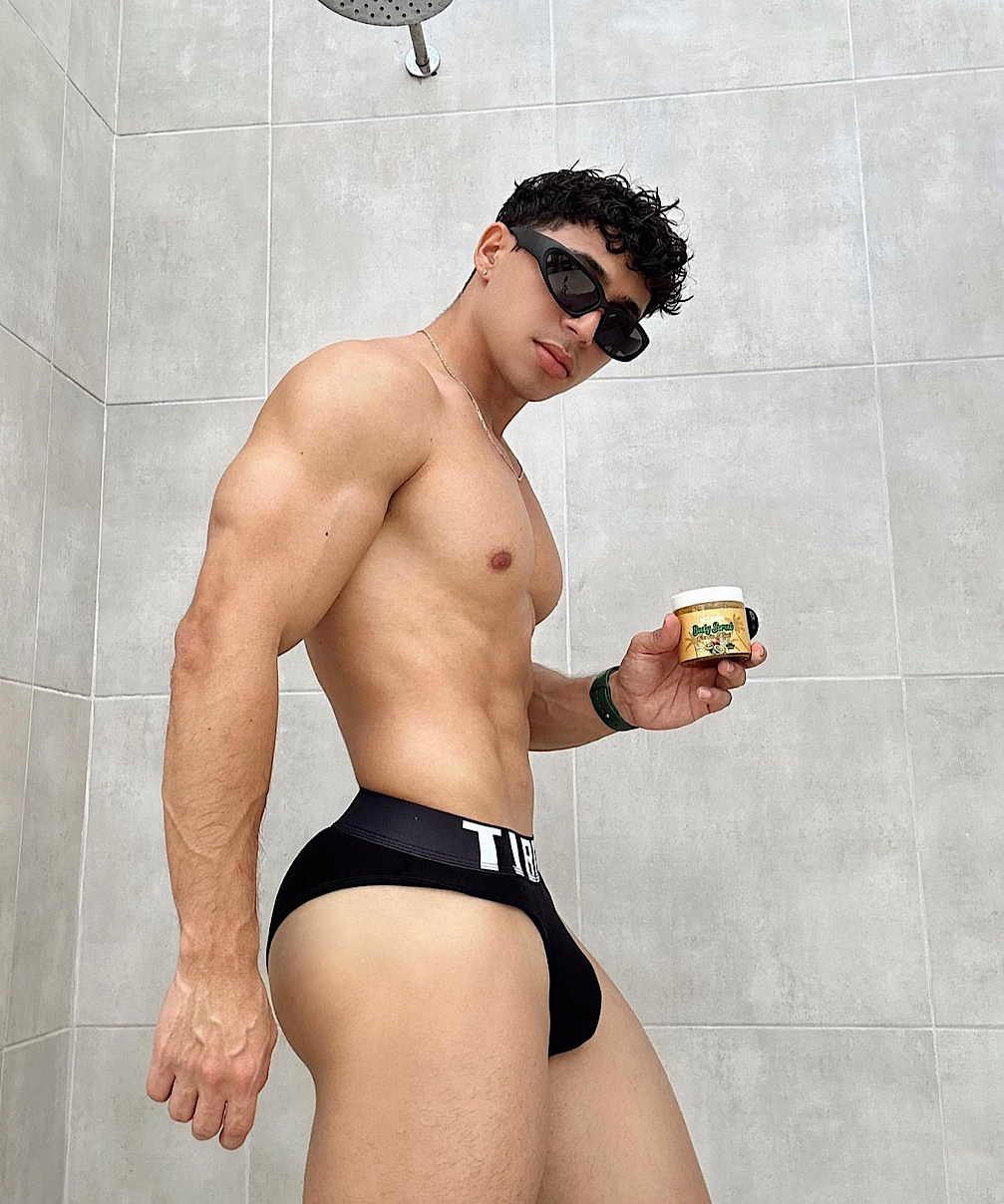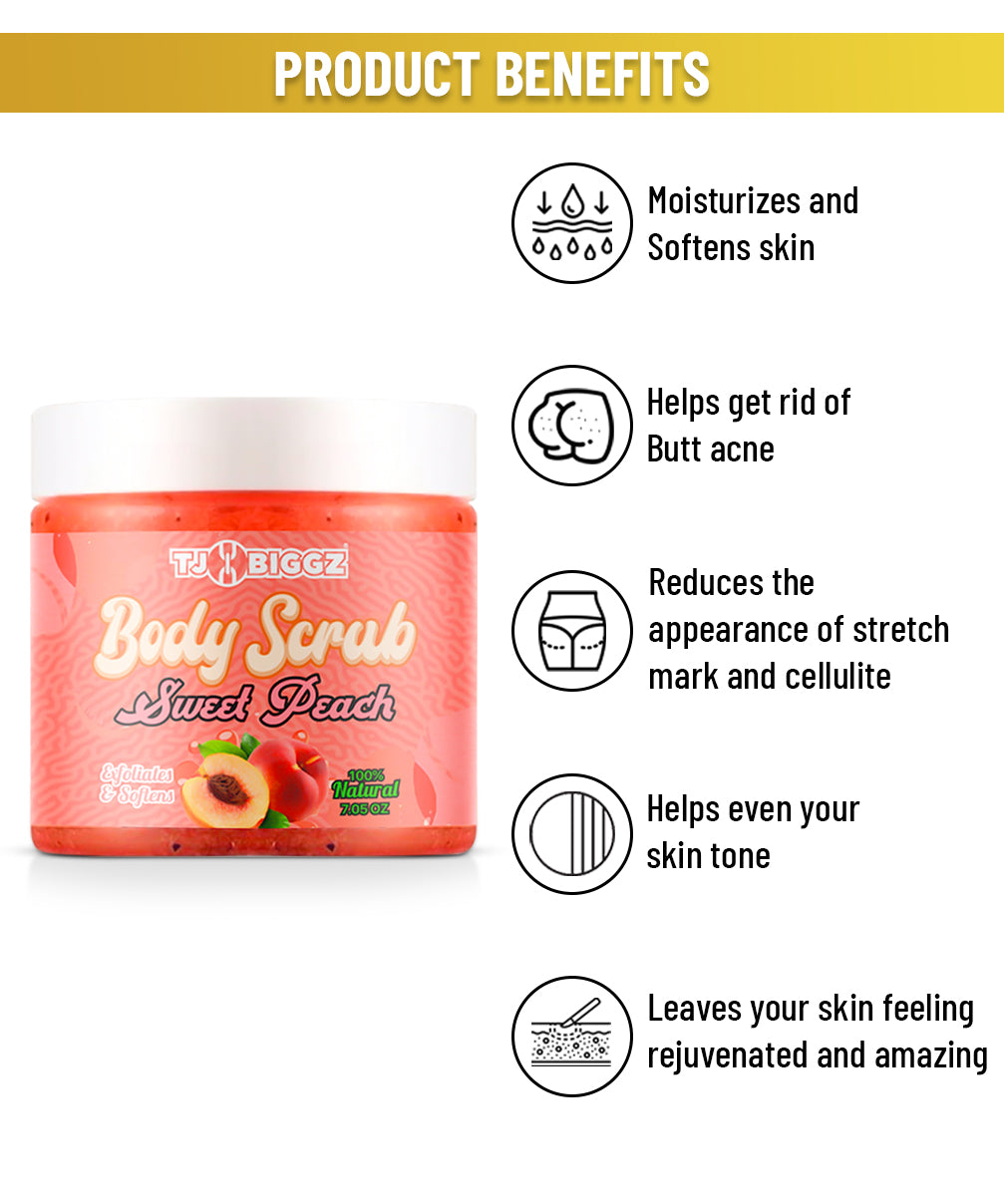 Biggz Bunz™ Body Scrub Bundle (Exfoliate & Soften)
Regular price
$ 60.00
Sale price
$ 35.00
Save

$ 25.00
/
In stock, ready to ship

Inventory on the way
Makes the booty extremely eatable!
Biggz Bunz™ Scrub is made with unique organic based ingredients giving your body & booty a nice and pleasurable touch, taste and smell. Lathers and scrubs to remove dead skin cells leaving your skin hydrated and feeling smooth. The exotic kiwi scent will make your partner drool & want to devour your Bunz. 
Benefits of using Tj Biggz Body Scrub Daily
Moisturizes and softens skin 
Helps get rid of Butt acne 
Reduces the appearance of stretch marks and cellulite 
Helps even out skin tone
Leaves your skin feeling rejuvenated and amazing
  Features & Details:
For external / body & booty use only 
To be used in the shower 
Hydrates and softens the booty
Tj Biggz Exotic Kiwi scent 
Made with Organic ingredients
DO NOT CONSUME
Ingredients:
Sucrose, glycerin, aqua, propanediol, xanthan gum, dmdm hydantoin, coffea arabica (coffee) seed powder, methylparaben, flavor,citric acid, sodium pca, sodium lactate, arginine, aspartic acid, pca, glycine, alanine, serine, valine, proline, threonine, isoleucine, histidine, phenylalanine, CI 42053
Suggested Use:
While in the bathtub/shower lather body & booty area then rinse off.
SATISFACTION GUARANTEED!
Here at Tj Biggz we strongly believe in our products and want you to be fully satisfied. The return policy below is for all supplements and items purchased directly through our website (www.tjbiggz.com)
14-day return on regular price unwashed items free from stains/hair. Personal items such as underwear, swimwear, socks, bodysuits, and adult toys are FINAL SALE for hygienic reasons.
For supplements & cosmetics a return will only be accepted if the product came defective, this does not apply to pre-orders or digital items. Pre orders and Digital items are non refundable, no exceptions. To start the return process simply ship the unused or defected item back to us using the lowest USPS shipping rate. Once the item is returned to us and delivered, we will send you the same item at no extra shipping cost, this store does not return money.
If any bottle of supplements or cosmetics that you receive are damaged or arrive after its expiration date, we will promptly send a replacement. If you want a replacement for more than one bottle, you must return all of the bottles that you want to replace. For international customers, once the package is shipped and arrived in the customers country successfully, it is then the customers responsibility to retrieve the package. Also, if a package is lost while in transit or held by international customs it is no longer our responsibility and the customer would need to file a claim with the mail carrier that was used to ship the package. Please note, we are not responsible for mail carrier delays and shipping fees will NOT be refunded under any circumstances. 
Please email us at support@TjBiggzShop.com to start the return process
Please note that if you purchased any of our products from Amazon or somewhere else and are not satisfied for any reason, you MUST return the product in accordance with their return policies.The original shipping charges, including customs and taxes, will not be refunded. We reserve the right to reject any replacement request if we honestly believe that it may be fraudulent in nature.
Return Instructions
Please send your eligible return items to the name and address below. You are solely responsible for the cost of the return shipment, including customs and taxes.
Tj Biggz
831 Lowell Blvd Unit C24
Orlando, FL 32803
  You are strongly encouraged to use a shipping service with tracking capabilities. We apologize, but we are not responsible for the amount of time it takes for an item to be returned to our facility, or if the item is lost or damaged during the return process.
If you have any questions regarding our Shipping & Return policy, please contact us at support@tjbiggzshop.com
 Also, if the customer claims to not have received their order after it was confirmed for delivery by the mail carrier that was used, they're ineligible for a return and will need to contact their local post office or mail carrier that was used to ship the order. This also applies to packages with an incomplete shipping address provided by customer, NO EXCEPTIONS.
Official Tj Biggz Packaging
Since biodegradable packaging materials are made from recycled materials instead of chemicals and plastics, they are better for the environment and our planet.
Benefits
No Harmful Plastics.
Convenient Disposal.
Versatility.
Sustainability.
Saves the sea turtles
For customer support please email: